Chancellor and First Lady Announce $1 Million Gift to University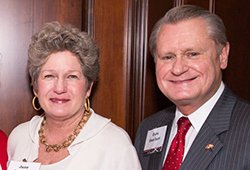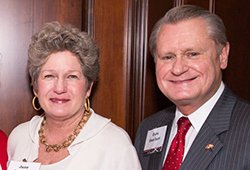 FAYETTEVILLE, Ark. – Chancellor G. David Gearhart and his wife, Jane, surprised a group of fundraising volunteers on April 10 when they announced they were making a $1 million gift to the University of Arkansas' upcoming campaign efforts.

The campaign, known as Campaign Arkansas, is still in the organizational phase and will become public at a later date.

"David Gearhart is a fundraising pioneer, and he and Jane have always believed in the importance of private gift support," said Chris Wyrick, vice chancellor for university advancement. "Their announcement brought tears to the eyes of our volunteers and made us all proud to have him as our leader. He will be greatly missed by them and all of university advancement, but we take heart in knowing that he will be cheering us on and standing behind the mission of our upcoming capital campaign."

Campaign Arkansas volunteers Robert and Sandra Connor of Little Rock and Dallas presented the chancellor with a resolution commemorating his retirement, and the Gearharts were recognized for the impact they made on the campus.

"It has been a privilege to work with Chancellor Gearhart on his vision for the future of fundraising at the university," said the Connors. "He and Jane leave behind a tremendous legacy, and their 'Students First' philosophy will continue to propel the university's fundraising efforts throughout the upcoming campaign. We were incredibly touched by their announcement; it was an outstanding example of his leadership and devotion to the University of Arkansas."

During the announcement, Gearhart called his wife to the podium and commented on their commitment to the university's future.

"Jane and I wanted to make this gift to show our support for the University of Arkansas and our belief in higher education," said Gearhart. "It is our hope that, through leading by example, others will follow suit and step up to support the flagship campus of Arkansas.

"This university has been a major part of our lives, and this gift pays tribute to what it has meant to us. We are honored that it is a part of our past and look forward to seeing what it achieves in the future."

Gearhart will retire as chancellor July 31.

The gift is being made with cash and a deferred commitment, and its purpose will be determined at a later date.