Family Gift Memorializes the Life of Bill Toller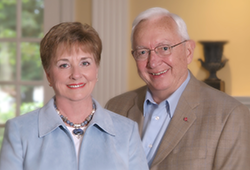 The legacy of William R. "Bill" Toller is being memorialized with a $1 million gift to the University of Arkansas from his wife, Jo Ella, and children, Bob Toller, Michelle Augustini and Greg Toller. The contribution, which is being made through a charitable lead trust, will provide $750,000 toward the Jim and Joyce Faulkner Performing Arts Center, and the remaining $250,000 will establish a scholarship for the benefit of the Arkansas Alumni Association.
Bill Toller, a 1955 graduate of the Sam M. Walton College of Business, passed away in December 2011. The former chairman and CEO of Witco Chemical Company Inc. was an active volunteer and advocate of the University of Arkansas and served on the Walton College Dean's Executive Advisory Board, the Campaign for the Twenty-First Century Steering Committee and the Board of Advisors.
Bill and Jo Ella's son, Bob Toller, spoke on behalf of the family and noted the significance of the gift.
"The Faulkner Performing Arts Center gives us an excellent opportunity to be a part of something new and important to the university," he said. "The scholarship honors something my father was always passionate about – giving students the opportunity to afford a quality education. We hope this gift makes a meaningful impact on the university that he loved so dearly."
"Bill and Jo Ella have been outstanding supporters of the university over the years," said Chancellor G. David Gearhart. "This gift is an excellent tribute to Bill's legacy of service to our campus and his stellar reputation as a benefactor and volunteer. We are humbled by the Toller family's commitment to higher education."
The $250,000 allocated to the Arkansas Alumni Association will establish the William R. Toller Alumni Legacy Endowed Scholarship. Recipients of the scholarship will be selected from the pool of applicants for Arkansas Alumni Association freshman scholarships. Full-time enrolled undergraduate students will also be eligible, as long as they meet the minimum academic requirements.
Graham Stewart, associate vice chancellor for alumni, said he is proud to have the Toller name associated with their scholarship program.
"We already have warm thoughts of the Tollers every time we hear the Bill and Jo Ella Toller Celebration Bell toll in the Alumni House," he said. "They are a wonderful example of all the values we promote within our organization, so we are thrilled that this gift will honor their loyalty and love for Arkansas."
Bill Toller was recognized as a distinguished alumnus of the university in 1997 and received the Walton College lifetime achievement award in 1999. In 2001, he and Jo Ella were inducted into the Towers of Old Main, a recognition society for the university's most generous benefactors. The Tollers were recognized for their gifts to the Toller Honors College Fellowships and the Bill and Jo Ella Toller Celebration Bell at the Janelle Y. Hembree Alumni House.