Endowed Teaching Scholarship Established With $500,000 Gift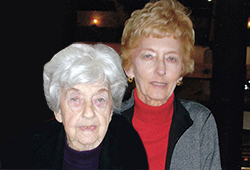 Betty Haga of Riverside, California, and her late mother, Merl McKinnon Haga, have established an endowed scholarship at the University of Arkansas with a $500,000 gift. The Merl McKinnon Haga and Betty Haga Endowed Scholarship will benefit the College of Education and Health Professions and will be used to provide financial assistance to nontraditional or adult learner students pursuing a degree.
Tom Smith, dean of the College of Education and Health Professions, remarked on their generosity and said, "Teaching was obviously very important to Betty and her mother. Together, they have a combined 70 years of experience. We are honored that they've chosen to commemorate their extraordinary careers by establishing this scholarship and thrilled that nontraditional students will benefit."
The Merl McKinnon Haga and Betty Haga Endowed Scholarship will be awarded to a nontraditional or adult learner student from Washington or Benton County who is pursuing a degree with plans to become a K-12 teacher. Preference will be given to degree-seeking students who are returning to the program after a period of non-enrollment. Both Betty and her mother took breaks in their educational careers before returning to college and, therefore, wanted to provide financial assistance to others who are re-entering an educational program.
Betty said, "My grandparents valued education, and my mother and I just loved our careers. We believe in giving back because Arkansas was good to us."
Merl McKinnon Haga was originally from Elm Springs, Arkansas, and finished her teaching degree at what was then the College of Education by commuting to the University of Arkansas campus for summer school. "She was driven, motivated and remarkable," recalled Betty.
Merl began her teaching career at Liberty and Droke country schools and then taught at Central Ward Elementary in Rogers, Arkansas. Merl spent nearly 40 years teaching – 10 years in Arkansas and 30 years in California – before she retired. Betty Haga was born and raised in Rogers. After beginning her educational career as a business major, she eventually switched to elementary education and received teaching degrees from Baylor University and the University of La Verne. She spent 30 years working as an elementary teacher in Riverside and Corona, California. Betty is a member of the University of Arkansas Heritage Society.