Evans Gift Creates $500,000 Matching Incentive for Garvan Woodland Gardens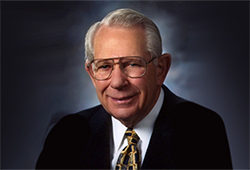 FAYETTEVILLE, Ark. — Sunny Evans of Hot Springs and her late husband, Bob, committed $500,000 of a previous estate gift to create matching funds for a new treehouse in Garvan Woodland Gardens. The treehouse, which will be part of the Evans Children's Adventure Garden, will cost approximately $1 million to construct and is being designed by Modus Studio in Fayetteville.

"The Treehouse Project for Garvan Woodland Gardens will be a superb contemporary addition to the landscape and architecture of the gardens," said Peter MacKeith, dean of the Fay Jones School of Architecture and Design. "Children of all ages will be both educated and delighted by the Modus Studio design. The vision of Mrs. Garvan for both the students of the school and the people of the state continues to be of immense benefit for all, and we are grateful to Sunny Evans and her late husband for their commitment to that vision."

"The Evans estate gift will have an immediate financial impact on the Gardens, as well as an additional impact into perpetuity," said Bob Bledsoe, executive director of Garvan Gardens. "Our gardens, and particularly the Evans Children's Adventure Garden that Bob loved so dearly, will be transformed with their gift. As a friend of Bob Evans, it makes me proud that his legacy at Garvan Woodland Gardens is one we not only honor today, but it is also one that will be remembered for generations."

The Evanses have a legacy of supporting the University of Arkansas, particularly the Fay Jones School of Architecture and Design's Garvan Woodland Gardens. In addition to the children's garden, their prior contributions helped complete the sanctuary within the Anthony Chapel and provided funding for the Evans Groom's Quarters and the Evans Celebration Garden.

Sunny Evans said, "Bob's favorite quote was one he attributed to Winston Churchill, and he carried it with him always in his pocket. He strongly believed that with what you get you make a living, and with what you give, you make a life. Bob was a very giving person."

In addition to Garvan Gardens, the Evanses have designated gifts toward establishing a scholarship in the department of music and an endowed Chancellor's Scholarship. The couple also supported the Arkansas Alumni Association Cornerstone Fund and were longtime supporters of the Razorback Foundation.

In spring 2011, the Evanses were recognized as Chancellor's Medal recipients for their extraordinary philanthropy. That honor was particularly meaningful to them, as they were presented the award by then-Chancellor Dave Gearhart, whom they greatly admired. Bob Evans served as a member of the university's Campaign for the Twenty-First Century Steering Committee and as a member of the campaign's Leadership and Principal Gifts Committee. He was a member of the university's Board of Advisors and the Garvan Woodland Gardens Advisory Council prior to his death in November 2011.

About Garvan Woodland Gardens: Verna Cook Garvan donated the 210-acre Garvan Woodland Gardens to the University of Arkansas School of Architecture in 1985. Located on 4.5 miles of wooded shoreline along Lake Hamilton near Hot Springs, the gardens feature more than 128 species of ornamental and native shrubs and wild flowers, 160 different types of azaleas, a 4-acre Asian garden with a 12-foot waterfall, three unique bridges, the Perry Wildflower Overlook, and the sandstone and redwood Garvan Pavilion, designed by Fay Jones and Maurice Jennings. Anthony Chapel, designed by Jennings and David McKee, is a popular wedding venue. The Evans Children's Adventure Gardens offers 1.5 acres of interactive fun with a waterfall and cave, an iron bridge that resembles woven tree branches and rocks weighing more than 3,200 tons. The annual Holiday Lights display – featuring more than 4 million lights over 17 acres – draws thousands of visitors each winter. For more information on the Gardens, including maps and directions to the site, visit www.garvangardens.org.

About the University of Arkansas: The University of Arkansas provides an internationally competitive education for undergraduate and graduate students in more than 200 academic programs. The university contributes new knowledge, economic development, basic and applied research, and creative activity while also providing service to academic and professional disciplines. The Carnegie Foundation classifies the University of Arkansas among only 2 percent of universities in America that have the highest level of research activity. U.S. News & World Report ranks the University of Arkansas among its top American public research universities. Founded in 1871, the University of Arkansas comprises 10 colleges and schools and maintains a low student-to-faculty ratio that promotes personal attention and close mentoring.